Gender Affirming Breast Augmentation
Consultations offered at our two convenient locations in Manhattan, NY and Queens, NY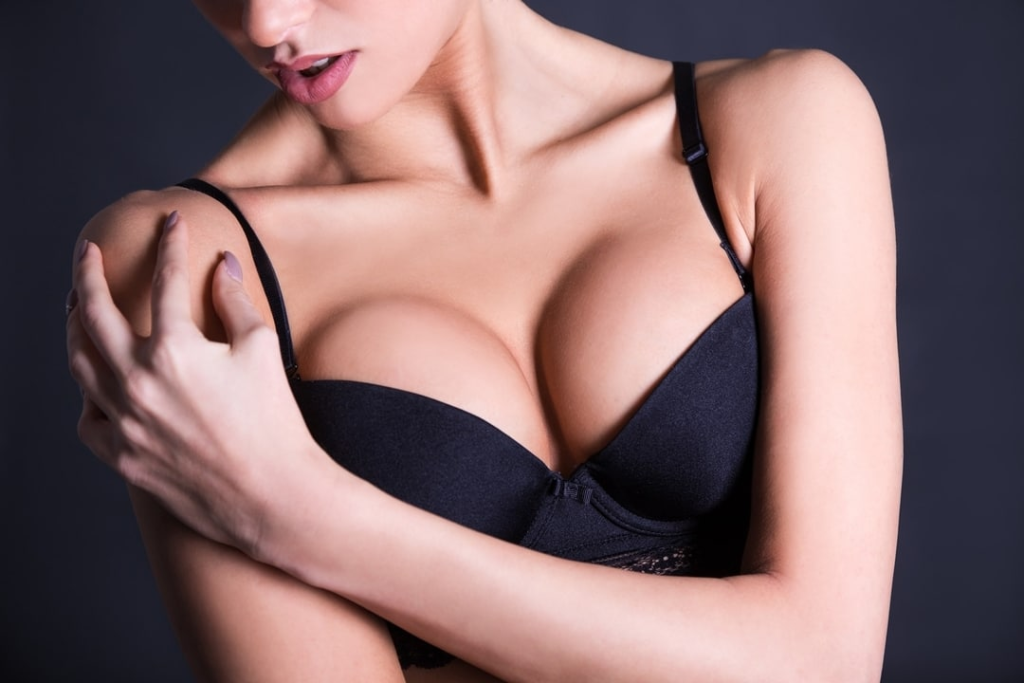 Breasts are an enduring symbol of beauty and femininity, and for many transgender women, gender-affirming breast augmentation is a life-changing experience. Also known as feminizing mammaplasty or top surgery, the procedure creates a feminine chest appearance using breast implants, fat grafting or a combination of techniques. The results of this procedure can align your body with your true gender and help you present your most confident and authentic self to the world.
Dr. Marc Everett is a board-certified and fellowship-trained plastic surgeon who brings an innovative approach to cosmetic and reconstructive medicine. He is committed to helping all patients find their unique path to achieving their body goals and better well-being.
Before and After Photos
Special Considerations for Gender-Affirming Breast Augmentation
The chest anatomy and torso proportions of trans women are different from those of cis women, which can influence the surgical approach. It is essential to choose a plastic surgeon who is familiar with the nuances of breast augmentation for transgender patients. Transgender women typically have the following features:
Less breast volume compared to the rest of the body frame
Less developed breast shape
Thicker chest muscle
Smaller nipples and areolas
Nipples set wider apart on the chest
High or indistinct breast fold
During your initial consultation, Dr. Everett will spend a great deal of time discussing important aspects of your surgery, so you are prepared for every step of the experience and there are no surprises along the way.
Implant Breast Augmentation
Top surgery for transgender women most often involves the placement of saline or silicone implants. There are numerous factors to consider when choosing this approach for gender-affirming breast augmentation, including the type of implant, the size and profile of the implant, the implant shape, the incision pattern and the location of the implant pocket. The techniques for this procedure are similar to breast augmentation for cis women. As a plastic surgeon with substantial experience in breast enhancement, Dr. Everett will discuss all of the options available to give you the optimal results based on your body type and your goals.
Staged Breast Augmentation
Some patients desire larger implants than their skin can currently accommodate. In this case, breast augmentation surgery can be broken into separate stages. One option is to have a series of surgeries with the placement of progressively larger implants until the desired size is reached. A second option is to use tissue expanders. In an initial surgery, tissue expanders are placed where the implants will eventually go. The expanders are gradually filled with fluid over a series of office visits, which slowly stretches the skin and other tissues to make room for the implants. In a second surgery, the expanders are removed and replaced with implants of the desired size.
Fat Transfer Breast Augmentation
Fat transfer blends the body contouring benefits of liposuction with the volumizing effect of breast augmentation. Also known as fat grafting, this technique involves removing fat cells from a donor area of the body (often the abdomen, thighs, sides or back) with liposuction and injecting them into the breasts for additional volume and shape. Fat transfer augmentation on its own is limited in the amount of volume it can contribute, however, it can be done in conjunction with the placement of breast implants to improve the natural look and feel of the result. If you are interested in this technique, Dr. Everett will evaluate your candidacy based on the availability of excess fat and your desired breast size.
Begin the Next Chapter of Your Story
Gender-affirming breast augmentation is a major step in establishing a feminine identity. From your first consultation to your final follow-up, you can trust that the team at Marc Everett MD has the knowledge, skill and artistry to give you the best results possible. Dr. Everett embraces the responsibility of transforming a person's appearance to reflect their true identity. His top priorities are understanding your vision for your body and improving your quality of life.
Contact us at (212) 774-7715 today to arrange a consultation. Dr. Everett will discuss your journey so far and give you the information you need to make the decisions that are right for you.