Breast Lift
Consultations offered at our two convenient locations in Manhattan, NY and Queens, NY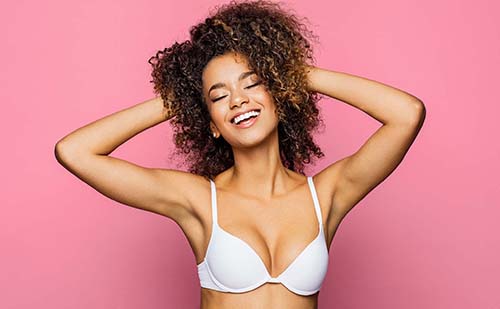 A breast lift, also known as mastopexy, is a procedure that restores the breasts to a more upright, lifted position on the chest. Many different factors can cause breasts to sag, including:
Pregnancy
Breastfeeding
Skin laxity due to aging
Weight loss
Gravity and natural causes
If your breasts have begun to sag for any reason, a breast lift procedure in Manhattan can be used to return them to their youthful perkiness. Dr. Marc Everett wants to help you achieve your dream body with a breast lift.
Before and After Photos
Procedure
A breast lift can fix a wide range of common aesthetic concerns, including:
Flattened or elongated breasts
Large, stretched areolas
Downward-pointing nipples
Breast asymmetry
The procedure is completed under general anesthesia. After the patient has been numbed, the surgeon will make the necessary incisions to begin the procedure. Multiple breast lift methods exist, and the method chosen will depend on the patient's needs and the doctor's recommendation.
Excess skin and breast tissue will be removed through the incision sites. The breast tissue will be repositioned to a higher and more youthful position. The surgeon will complete any other adjustments, verifying symmetry between the breasts, before closing the incisions. The procedure is completed on an outpatient basis, and patients can return home the same day.
The breast lift procedure lasts two to three hours. Breast lifts can result in a slight loss of size due to the removal of excess skin and tissue. Patients with a moderate amount of sagging can expect to go down about one cup size after their breast lift. If patients also wish to increase the size of their breasts, breast augmentation using implants can be completed simultaneously for complete breast enhancement.
Incision Methods
The three main incision methods utilized for breast lift surgery depend on the amount of lift required and the surgeon's recommendation. Incision lines are an inevitability after a breast lift. While patients may naturally prefer the method that yields the least amount of scarring, choosing the option that provides the best results is the most critical factor when making the decision.
The traditional method, also known as the anchor breast lift, requires three separate, connecting incisions. Incisions are made in a crescent shape below the fold of the breast, around the outer lining of the areola and stretching from the bottom of the areola to the fold of the breast. This method allows for the most amount of lift and is beneficial for patients with moderate to severe sagging.
The vertical breast lift, or lollipop technique, utilizes incisions around the areola and between the bottom of the areola and the fold of the breast. This method does not require a crescent incision below the fold of the breast. Patients with mild to moderate sagging are the best candidates for this method.
For patients with minimal sagging who require a subtler lift, the circumareolar or periareolar lift is usually the preferred choice. This method requires a single incision around the areola, which blends in with the natural texture of the surrounding skin after healing. Only a small amount of skin can be removed using this method, so patients with moderate to severe sagging are not good candidates for this particular technique.
Recovery & Results
After patients have received their breast lift, they can immediately enjoy a visibly higher and more youthful breast profile. Common side effects of the procedure include bruising, soreness, and swelling. Most side effects diminish in the first couple of weeks, although swelling will take several months to subside entirely. If non-dissolvable stitches and surgical drains were used, they would be removed three to seven days following surgery.
Patients should plan on one week of downtime and refrain from strenuous activities for about four weeks. Extra help may be needed around the house with daily responsibilities, including taking care of children, for the first week. Excessive upper body movement and chest pressure will need to be avoided to allow for a prompt and comfortable recovery. Incision scars will appear pink and lumpy at first before fading into thin, white lines after 12 to 18 months. Results will finalize after a few months, once the swelling has subsided.
Contact
If you are unhappy with your sagging or asymmetrical breasts, then consider a breast lift from Dr. Marc Everett. Aging and motherhood can be unkind to your breasts, and we want to help you restore them to their youthful appearance. If you would like to learn more about breast lift surgery or determine if you are a good candidate for the procedure, then schedule a consultation with Dr. Marc Everett. You can reach our New York office at 212-774-7715 to book your appointment.
FAQs
How visible will the scars be?
The visibility of your scars will depend on which breast lift method was employed during your procedure. Incisions made around the areola will blend in well with the surrounding tissue. Incisions in other places will eventually fade to thin white lines, but the results will outweigh any visible scarring. We will take great care during and after your surgery to ensure scarring is kept to a minimum.
Can I sleep on my stomach after surgery?
No, you should avoid sleeping on your stomach for about four weeks to keep pressure off of your chest. We will go over this and any other essential lifestyle changes with you before your surgery so you can better prepare yourself for a quick and comfortable recovery.
What kind of bra will I need to wear after surgery?
You will need to wear a tight, supportive bra while your breasts heal to provide support as they adjust to their new position. Compression will also help reduce swelling. Avoid underwire bras for several weeks as they might distort the shape of your breasts and can harm your incisions. Most patients can resume wearing regular bras after one month.
Can I shower or swim after my breast lift?
You will be required to keep your bandages on for 24 to 48 hours, during which time you will not be able to shower. After your bandages have been removed, you are free to shower. However, you will need to avoid bathing or submerging your breasts in still water until your incisions have completed healed. Most patients can go swimming after about one month.
How long do results from a breast lift last?
A breast lift can restore your breasts to a more youthful position, counteracting the effects of pregnancy and aging. However, it will not stop breasts from continuing to sag. Some patients do require a revision breast lift after enjoying their results for several years, while others enjoy lifelong results from their surgery. To best prolong your results, make sure to live a healthy lifestyle, maintain a stable weight, and avoid smoking.
Who is a good candidate for breast lift surgery?
Good candidates for a breast lift are Manhattan, NY women who are done having children and are unhappy with the position of their breasts. Breast lift surgery can make breastfeeding difficult, while pregnancy can distort results and cause breasts to sag, so patients should be sure they are done having children to ensure they receive the most out of their procedure. If you would like to learn if you are a good candidate for mastopexy based on your breasts' position and your desired results, then schedule a consultation with us to receive an in-person evaluation.