Brazilian Butt Lift
Consultations offered at our two convenient locations in Manhattan, NY and Queens, NY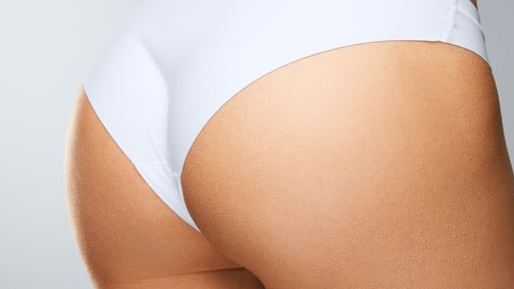 A Brazilian Butt Lift (BBL) is a surgical procedure that augments the size and shape of a patient's buttocks using fat taken from elsewhere in the body. A BBL provides natural-looking results because it uses natural means to achieve a curvier and more aesthetically-pleasing shape. Fat is commonly harvested from the sides and abdomen to create a slimmer waistline that complements the more youthful, curvier buttocks.
If you are unhappy with the shape or size of your rear and are also interested in the fat loss benefits of liposuction, then visit our office to receive a body contouring BBL procedure. Dr. Marc Everett will help you achieve your ideal curves without using synthetic fillers or implants.
Before and After Photos
Procedure
A BBL is completed under general anesthesia and consists of two steps: liposuction and fat grafting. To be eligible candidates for the procedure, patients must have pockets of fat located elsewhere in the body that can provide the donor fat necessary to augment the buttocks. Common donor sites include the abdomen, sides, thighs, and back. At the beginning of the procedure, the surgeon will make some small incisions in the targeted area to allow for the insertion of the cannula, a thin metal tube with a blunt end. The cannula is moved in a back-and-forth motion to loosen fat cells before drawing them out using suction.
After removal, the harvested fat is purified to ensure that only the most optimal fat cells are selected to be used during the grafting portion of the procedure. More fat than is needed will be removed to provide enough high-quality cells, and additional sections of the body can be contoured at the patient's request. The BBL procedure is customizable based on the unique concerns and desired results of each patient, so the specific procedural steps of each BBL will vary.
Once an adequate amount of fat has been removed and purified, the surgeon will then gradually inject it into the buttocks to add volume. The fat will be injected at multiple sites and angles to create an even shape and accurate symmetry. After the surgeon has created the ideal proportions and finished shaping the buttocks, incisions will be sutured shut, and the affected areas of the patient's body will be wrapped in compression garments.
Recovery & Results
Following a BBL procedure, patients should expect to spend two to three weeks recovering before resuming most of their normal activities. Patients will need to schedule one week off from work to allow an appropriate amount of time for the body to heal. Direct pressure on the buttocks can kill the transplanted fat cells and harm results, so patients will need to avoid sitting down and sleeping on their backs for two to three weeks.
Common side effects from a BBL procedure include bruising, numbness, swelling, soreness, and general discomfort. Discomfort and bruising will gradually improve over the first couple of weeks of recovery. Numbness in the targeted areas can linger for a few weeks to several months. Compression garments will need to be worn for at least two to three weeks to help minimize swelling and facilitate a quicker recovery. Any non-dissolvable sutures or surgical drains will be removed in seven to 10 days.
Results will be immediately visible for both the body contouring effects of the liposuction and the added volume of the buttocks augmentation. Swelling will distort the patient's new proportions, however, for up to six months. Results will continue to develop as the body accepts the fat grafts and absorbs any excess fat and fluids. Final results are typically visible in three to four months.
Contact
Dr. Marc Everett offers BBL procedures to their patients to help them build their ideal figure. If you are feeling frustrated by stubborn pockets of fat that diet and exercise cannot seem to eliminate and would like a perkier and more uplifted rear, then visit Dr. Marc Everett to discuss undergoing a BBL procedure. Call us today at 212-774-7715 and book your appointment or submit this online form.
FAQs
How soon after the procedure, can I go swimming or take a shower?
You will need to wait 48 hours before removing your compression dressings and getting your incision sites wet. You will be able to shower at this point, although you must avoid submerging your body in still water. Most patients can swim or take a bath around one month following their procedure.
How long before I can exercise again?
Patients undergoing a BBL procedure will need to be prepared to devote at least a few weeks towards a healthy and successful recovery. Most patients can resume their normal activities after three weeks, but some may find they need more time before they feel comfortable returning to exercise and more strenuous activities. We will discuss your expected recovery timeline in detail before your procedure, as well as evaluate the status of your recovery during regular post-op appointments.
Will a BBL address sagging skin?
Patients with sagging or loose skin are not generally good candidates for liposuction and therefore a BBL. Fat loss can exacerbate the issue of loose skin, so we will verify the elasticity of your skin is sufficient before moving forward with the procedure.
Who is a good candidate for a BBL?
A BBL is an excellent procedure for both Manhattan men and women interested in slimming down their figure and adding shape and volume to their buttocks. BBL patients will need to have excess fat located in other areas of the body, although they should still be within 25 pounds of their ideal body weight. Liposuction is a fat loss procedure, not weight loss surgery, and is intended to be used as a last resort for patients who have seen unsuccessful results from a healthy diet and regular exercise. If you would like to know whether or not you are a good candidate for a BBL, then schedule an appointment with us to receive an in-person evaluation.
Will I have noticeable scars after the procedure?
Liposuction uses very small incisions to allow for insertion of the cannula. You should expect to have some minimal scars, although they will be less than a quarter-inch in length and mostly unnoticeable. Any scarring will continue to mature and fade for 12 to 18 months, at which point they will become very thin and white.
How much of the added fat will be absorbed by the body?
During liposuction, about three to four times the amount of fat needed will be removed. The amount of usable fat will be affected by the purification process, as only the highest quality fat that provides the best chance at a successful graft will be chosen. Around 50 to 80 percent of the transplanted fat will receive a proper blood supply and remain after three months, while any excess fat will be safely absorbed by the body. To compensate for this expected fat loss, we will add extra volume to anticipate any shrinkage that occurs over the first few months.
How long does the procedure take?
BBL is a highly customizable procedure that can vary depending on the amount of liposuction the patient would like to be done and how much volume they want to be added to their buttocks. As a result, the length of the procedure may last between two and five hours.
How long do results from a BBL last?
Results will mostly stabilize about three months after the procedure, at which point any transplanted fat still present in the buttocks will remain. Patients will need to maintain a stable body weight following their procedure to preserve their new proportions. Liposuction directly removes fat from the targeted areas, but it does not prevent new fat cells from developing due to an unhealthy lifestyle. Your new contours should last as long as you continue to live a healthy lifestyle.