Bra-Line Lift
Consultations offered at our two convenient locations in Manhattan, NY and Queens, NY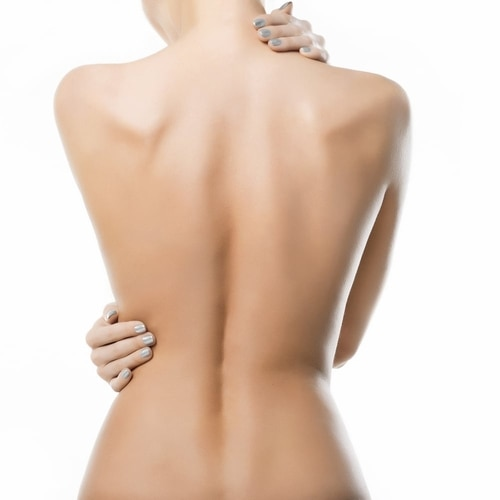 Bra line trunkplasty also referred to as a bra line lift, is a surgical procedure that targets and eliminates rolls and bulges that form in the middle back due to excess skin and pockets of fat. Bra line lifts are commonly paired with upper or lower body lifts as part of a comprehensive approach to body rejuvenation following weight loss surgery but may also be completed as a single procedure. Patients undergoing a bra line lift can expect to see numerous improvements in their appearance, including:
Elimination of back rolls around the bra and bikini line
Removal of sagging skin caused by weight loss
Slimming and contouring of torso circumference
Creation of a smoother, tighter back
Both men and women struggle with excess back skin and fat due to weight loss. Dr. Marc Everett wants to help you achieve your weight loss goals with the latest in plastic surgery treatments. Undergoing weight loss, whether via surgery or by natural means, is a long and challenging process. When you have finally met your weight loss goals, let Dr. Marc Everett help you finalize your journey with a bra line lift.
Procedure
Bra line trunkplasty is completed under general anesthesia or local anesthesia with intravenous sedation. Dr. Marc Everett marks the incision sites before surgery to create accurate measurements for use during the procedure. Female patients may be asked to bring a bikini top or revealing bra with them to serve as a template for the incisions, ensuring the horizontal scar is placed within the bra line. Male patients may not have the benefit of hiding their surgical scars while wearing a swimsuit, but Dr. Marc Everett makes every effort to keep scarring minimal for all patients.
Once the patient has been sedated and the area targeted for removal has been outlined, the incisions will be made. Patients with a moderate amount of excess back fat may receive liposuction before excess skin is removed to create a slimmer and tighter look. If possible, the liposuction incisions will be made within the excess skin targeted for removal, preventing additional scarring from the extra incisions.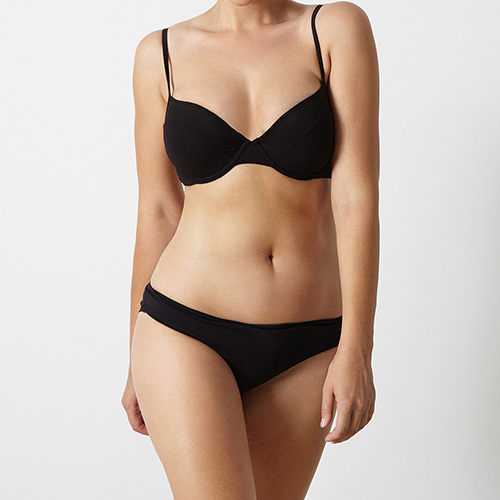 After excess fat has been removed, the tissue inside of the pre-marked area is cut away, and the edges of the skin are pulled together, eliminating bra line bulges and tightening the back. The tightening effect will smooth the skin between the upper back and the top of the buttocks, although it may not completely remove rolls and bulges present in the lower body. Supplementary procedures focusing on the lower body can correct additional issues located outside of the bra line. The skin is then sutured together to complete the surgery. The procedure lasts between one and two hours.
Recovery & Results
Bra line lifts are relatively mild surgical procedures and do not require an extensive recovery period, unlike other body lift surgeries. Patients will need to spend about two weeks recuperating and should plan on taking one full week off from work. Exercise and more strenuous activities can be gradually resumed about three to four weeks following surgery. Patients will need to avoid raising their arms overhead for a couple of weeks to prevent harming their incisions while they heal.
Common side effects of a bra line lift include swelling, bruising, and mild to moderate discomfort. Ongoing pain and discomfort will be managed with prescription pain medication to provide a comfortable recovery. Most side effects will improve in the first few weeks, although swelling will take several months to completely dissipate. Any surgical drains or non-dissolvable sutures will be removed in seven to 10 days.
Results will be instantly visible, and patients can immediately begin enjoying a slimmer, more youthful appearance. Final results will take several months to develop as residual swelling is slowly eliminated by the body. Compression garments may be used during the first several weeks of recovery to accelerate the healing process and control excess swelling. The incision scar will take at least one year to mature fully.
Contact
If you are embarrassed by fat bulges and loose skin in your bra line, then visit Dr. Marc Everett to learn more about a bra line lift. Undergoing a large amount of weight loss is an extensive and challenging journey. You may feel better in your new body, but we know that our patients' self-confidence can sometimes be hampered by the presence of loose skin and stubborn pockets of fat. Dr. Marc Everett wants to help you complete your weight loss journey with the latest in skin removal procedures.
Our caring and supportive staff will be with you every step of the way, from pre-surgery consultations to post-op advice and care. To book an appointment, call us today at 212-774-7715 or submit this online form.