Rhytidectomy
Consultations offered at our two convenient locations in Manhattan, NY and Queens, NY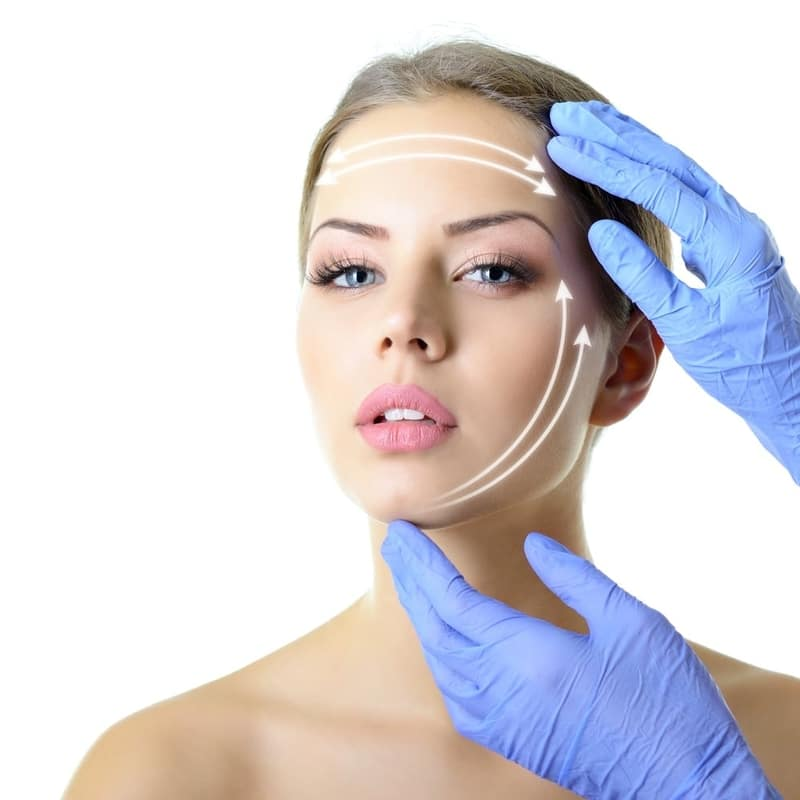 A facelift, also known as a rhytidectomy, and a neck lift, commonly referred to as a lower rhytidectomy, can restore a youthful appearance for those experiencing common signs of aging. These transformative procedures can help diminish deep wrinkles, loose skin, and fine lines throughout the face and neckline. Facelifts and neck lifts consist of many moving parts that are tailored to the individual needs of each patient.
Rhytidectomy is a versatile treatment option that can target several common concerns among patients, including:
Loose skin and wrinkles throughout the face
Jowls or sagging skin along the neck and jawline
Lost volume in the midface, including the cheeks
Fat that has drooped beneath the chin
Dr. Marc Everett works with their patients on an individual basis to address all of their concerns and ensure satisfying results that will keep them looking young for years to come.
The Procedure
Facelift Procedure
A facelift can be completed either under general anesthesia or local anesthesia with intravenous sedation. Depending on the patient, a facelift may be performed as an outpatient procedure, allowing some patients to return home the same day. Because every facelift is different, the duration of the surgery can last between two and five hours.
Incisions are made inconspicuously around the ears and in the hairline, preventing prominent scarring from hampering results. The underlying muscles and tissues of the face are pulled and repositioned through the incisions, while excess skin and fat are removed. The result is a rejuvenated appearance through the elimination of loose skin and wrinkles.
Neck Lift Procedure
If a lower rhytidectomy is being completed on its own without the addition of a facelift, the procedure steps will be similar but slightly different. Patients will be numbed using either general or local anesthesia before the first incision is made. If excess fat has contributed to the appearance of heavy jowls or a double chin, liposuction may be used during the procedure to remove fat. Any incisions will be made in inconspicuous locations around the ears and below the chin to make sure scarring does not distract from the results.
After the incisions have been made, excess skin and fat deposits will be removed. The underlying muscle and tissue of the neck will be repositioned, and skin will be pulled taut before closing the incisions with stitches. Neck lift surgery is an outpatient procedure and generally takes two hours or less.
Recovery & Results
The recovery period from rhytidectomy typically lasts about two to four weeks. Patients should expect to return to work in about ten days, while exercise and more strenuous activities can be gradually resumed over six weeks. Final results will develop over six months as the scars mature and swelling continues to fade.
Common side effects include swelling, bruising, numbness, and a feeling of tightness. These side effects are typically mild to moderate and mostly diminish over the first two weeks of recovery. Blood thinners should be avoided two weeks before and after the procedure to prevent excessive bleeding and other potential complications. Patients will need to sleep with an elevated head for the first one to two weeks to minimize swelling and facilitate a faster recovery. Results will continue to improve over several months as swelling subsides and incisions lines fade.
FAQ
How visible are bruising and swelling following the procedure?
The amount of bruising and swelling present following surgery varies with each patient, but you should expect to have noticeable side effects for your first few weeks. Some patients find their side effects heal quickly, while others may experience lingering bruising or swelling for some time despite a careful recovery. For most patients, the majority of noticeable side effects will fade within three weeks of the procedure.
What age is best to receive a rhytidectomy?
Middle-aged men and women in their 40s to 60s tend to be the best candidates for a facelift or neck lift, although no age limit exists for the procedure. Visible signs of aging begin to develop during your 30s and become more noticeable in your 40s, leading many people to develop an interest in cosmetic surgery around this time. Generally speaking, younger patients can recover more quickly and benefit best from a surgical procedure like rhytidectomy, although satisfying results and a safe recovery are not limited to any specific age group.
Can men receive a facelift or neck lift?
Absolutely. While plastic surgery tends to be geared mostly towards women, men deserve to love the way they look, too. Men can benefit from a facelift or neck lift to add definition back to their jawline and remove any bothersome signs of aging. We can discuss your concerns with you during a one-on-one consultation and explain more about how these procedures can benefit people of any gender.
How long will it be before I can return to work?
Most patients return to work between one to two weeks after their procedure. Ten days tends to be the average amount of time spent away from work.  This can vary depending on the patient's age and how quickly their noticeable side effects fade. You should spend at least one week focusing solely on recovery to ensure your body receives the rest it needs.
What areas of the face can be addressed during a rhytidectomy?
Rhytidectomy can address sagging jowls, deep lines around the mouth and nose, sunken cheeks and pronounced forehead wrinkles. Other procedures, such as blepharoplasty or brow lifts, can be performed simultaneously to address a wide range of problem areas on the face. We will discuss every one of your concerns with you during your initial consultation so we can be sure to formulate a comprehensive cosmetic plan that will leave you satisfied for years to come.
How visible are the scars?
We work tirelessly to ensure your scars will be easily hidden within the natural folds of skin surrounding your ears, as well as within your hairline. Modern facelift and neck lift techniques allow for minimized scars that are difficult to spot even to the trained eye, ensuring you can enjoy your results without the fear of noticeable scarring. Scars take about one year to fully mature, although makeup can be used within the first month of the procedure to easily cover them up. Most patients find their scars are mostly unnoticeable even without makeup after one to two months of healing.
How long do the results from rhytidectomy last?
The results of your procedure can vary depending on your age, skin type, and what type of surgery you undergo. Some patients enjoy their results for an average of four to six years, while others maintain their results for upwards of ten years. We will discuss what sort of results you can expect during an initial consultation where we evaluate your needs and concerns.