Breast Augmentation
Consultations offered at our two convenient locations in Manhattan, NY and Queens, NY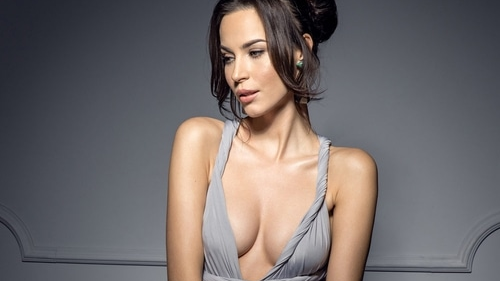 Breast augmentation is a cosmetic surgery that involves inserting implants into the breasts or transferring fat to change their size and shape. It is a highly sought-after option for women who desire fuller, more proportionate breasts or wish to restore lost volume due to pregnancy, weight loss, or aging.
Board-certified plastic surgeon Dr. Marc Everett is the first choice of New York City area patients seeking breast augmentation. At The Everett Clinic, Dr. Everett offers two types of breast enhancement. Breast augmentation with implants improves breast size, shape, and symmetry by placing silicone or saline implants under the existing breast tissue. Fat transfer breast augmentation is an alternative option that allows patients to combine the body contouring effects of liposuction with the advantages of a natural, implant-less breast augmentation.
For more information, call (212) 774-7715 or contact us online to reach our Manhattan or Queens office.
Before and After Photos
About Breast Augmentation
Breasts come in all shapes and sizes — big, small, full, flat, firm, soft, perky, relaxed, symmetrical, asymmetrical — but despite this vast amount of natural variation, it isn't always easy to embrace the figure you were born with or be comfortable with the changes to your breasts related to pregnancy or weight loss.
Breast augmentation is a surgical procedure that gives New York City women a fuller and more shapely bust that lasts for many years to come. With today's advanced surgical techniques, your breast augmentation can be precisely tailored to your body and your goals, so you can finally reveal the real you: a woman who is feminine, confident, and comfortable in her skin.
Silicone or Saline?
The two main breast implant choices available for patients are silicone and saline implants. Both options are safe and provide satisfying results. Saline implants contain a saltwater solution that is filled and adjusted during surgery to each patient's desired size. Silicone implants come in different sizes and are made of a solid silicone gel that is more lightweight and feels more natural than saline implants. Both implant options are constructed with a silicone shell and share the same minimal risk of rupturing, although neither option is dangerous should a rupture occur.
Alongside varying sizes, implants also come in different shapes, textures, and types of gel and gel fill. The shape of the implants may be round for an increase in size that yields greater cleavage, or teardrop-shaped, also known as the gummy bear implant, for results that appear more anatomically natural. Implants with more highly cohesive gel, or implants with a higher percentage of gel filling will further increase projection and upper fullness and may be a good selection for certain individuals. Dr. Everett and will discuss all available options with you.
Implant Placement
Breast implants can be placed either under the muscle (submuscular) or just under the skin (subglandular). Submuscular implants have the benefit of feeling more natural and looking more natural. For most patients, submuscular implants are recommended for the best short-term and long-term results, but both options will be considered when deciding what is best for your body and your goals.
Incision Sites
The incision sites for the implants can be located in three different areas: under the breast fold (inframammary), around the nipple (periareolar), or in the armpit (axillary). (1) All three options allow for inconspicuous scars and will not distract from your new breasts and all three options have their advantages and disadvantages. Dr. Everett will discuss each option with you and make a recommendation depending on the varying factors of your breast augmentation.
Fat Transfer
Breast augmentation can also be performed by filling the breast with transferred fat. Dr. Everett will use liposuction to take fat from one part of the body and transfer it to the breast. Fat can be taken from various parts of the body, including the abdomen, the back, and the thighs. Using natural fat makes for the most natural-feeling results of all of the breast augmentation options. This technique is best for patients who only want modest breast enhancement. It is also a useful method to create balance in asymmetrical breasts or to restore volume after breastfeeding or weight loss. (2) At The Everett Clinic, we are proud to offer the innovative alternative option of breast fat transfer augmentation procedures as well as traditional breast augmentation with implants.
Can breast augmentation help if my breasts are sagging?
Breast implants or fat transfer may create a more lifted appearance when minor sagging is present, but the effect is limited. A better option for correcting sagging is a breast lift. To address diminished volume and sagging simultaneously, a breast lift and augmentation can be done together in a single surgery. This reduces downtime, costs, and the number of times the patient must be under anesthesia.
Benefits of Breast Augmentation
There are numerous life-changing benefits of breast augmentation.
Your breasts will be bigger and more shapely
More styles of clothing will fit and flatter you
You will look better regardless of your age
Your figure will be more balanced
Your confidence will be boosted
Personal Consultation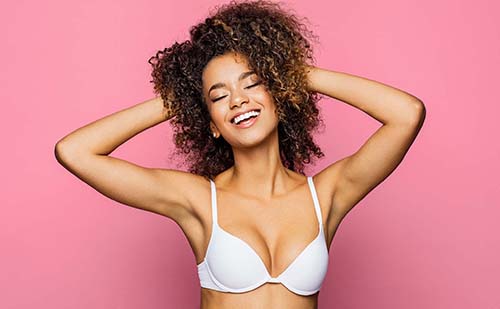 With a specialty in breast surgeries, Dr. Everett ensures that patients seeking breast implants in NY City are provided with all of the information that they need to make an informed decision for their health and feel confident about undergoing the procedure. Trust is an important part of the patient-surgeon relationship, and we always make sure that you are an active partner in choosing what's right for your body.
Whether you're in clothing, a swimsuit, or nothing at all, you deserve to feel confident and beautiful. Breast augmentation with Dr. Everett can help you achieve a body you love in any state. Now is the perfect time to schedule your consultation and find out if a New York City breast augmentation is right for you. Contact us today to get started. The team at The Everett Clinic looks forward to meeting you!
To schedule your personal consultation at our Manhattan or Queens offices, call (212) 774-7715.
Preparation
We will provide you with specific instructions to best prepare for your breast augmentation surgery. This may include changes in the medicines you take. You must follow these instructions closely so that your surgery goes smoothly and you may recover swiftly.
Before you undergo any type of surgery, you should follow the pre-operative instructions provided to you by Dr. Everett's office during the weeks leading up to it. This will reduce the risk of potential complications during your procedure. If you smoke or use any nicotine products, you should stop before your breast augmentation. The negative health effects of smoking and the use of nicotine products can make it harder for you to recover properly.
Breast Augmentation Procedure
Breast augmentation is typically performed as an outpatient procedure, meaning you can go home the same day as your surgery. Dr. Everett will make incisions in discrete areas determined by you and the doctor at your consultation in order to minimize visible scarring for the procedure that you are having. The incisions that are necessary for your procedure will be determined based on the anatomy of your breasts, the type and size of implants you have selected, and other factors that will be discussed at your consultation. Dr. Everett will place the implants inside your breasts and then close the incisions. Your vitals will be monitored as the medication wears off and you will be sent home as soon as you are ready.
Fat Transfer
Fat transfer breast augmentation improves the size and shape of the breasts by moving unwanted fat from another area of your body to your breasts. During the procedure, fat is removed using liposuction from a predetermined location. Small incisions will be made in the skin to allow for the insertion of a thin metal tube called a cannula. The cannula is used to suction out the fat, providing the body contouring effect of this two-in-one procedure. Common fat donor sites include the abdomen, thighs, and flanks.
Once the appropriate amount of fat has been removed, it will be processed to yield only the highest quality fat to be injected into the breasts. Hidden incisions at the base of the nipple will be used and the amount of volume added can be tailored to each patient's desired results. Fat transfer breast augmentation is entirely natural and the surviving fat lasts indefinitely. The procedure takes between two and four hours, depending on how much liposuction is needed.
Recovery & Results
Recovery from breast augmentation will involve some swelling, bruising, and discomfort. Most New York City patients will return to work in less than one week. Dr. Everett employs the rapid recovery breast augmentation technique and patients return to light exercise in two weeks. For patients having fat transfer augmentation, post-surgical garments may be necessary to minimize swelling and help your body adapt to its new size and shape. Dr. Everett will discuss postoperative care with you before your surgery so you can plan accordingly and ensure your body receives the rest and attention it needs while you recover.
Some improvements in size and shape will be noticeable immediately. However, the implant will not start off in the position it is destined to reach. For the first few weeks, the implant will seem to be in a high position, as the muscle and skin will need to relax in order for the implant to descend. Once the implant drops into position, it will still need some time in order to take its shape. One month after surgery, patients begin to look mostly healed, but individuals will notice changes that occur in the naked breast for several months afterward. Most patients will enjoy a bathing suit-ready look in a month and their final result in 4-6 months. We have patients use our own regimen of scar therapy and the scars will fade from view over the months following your procedure. Once healing is complete, the results of your breast enhancement procedure will be long-lasting. Your breasts will look and feel natural, your body will be more proportionate and you can enjoy a renewed sense of satisfaction with your figure.
Recovery & Results After Fat Transfer Breast Augmentation
Unlike breast implant augmentation, fat transfer breast augmentation does not create the same feeling of tightness and discomfort as traditional implant-based augmentation. Patients can expect mild to moderate discomfort in their liposuction sites, however. Swelling, bruising, and tenderness are common side effects that mostly diminish in the first couple of weeks. Compression dressings will be placed around the liposuction sites, although compression will need to be avoided on the breasts while the body responds to the fat transfer.
Patients will notice their results immediately, both for the fat transfer and liposuction. Swelling can distort results and proportions, so it may take several months for final results to become fully apparent as swelling continues to subside. The body will absorb a portion of the transferred fat and the water that accompanies it, so breasts may appear larger than expected at first and gradually shrink to the desired size. In general, patients can expect to retain 50 to 80 percent of the added volume.
How Much Does Breast Augmentation Cost in New York City?
If you have lost breast volume due to weight loss or pregnancy or are simply dissatisfied with your breast size, call our office today. At the office of Dr. Marc Everett, we take a vested interest in all of our New York patients and will ensure you receive the best care and precision in the industry.
To find out how much breast augmentation costs at Marc Everett Plastic Surgery, call (212) 774-7715 or visit our contact page.
FAQ
Do breast implants need to be replaced?
Implants are not designed to be lifelong devices, but they do not have a predetermined lifespan that warrants replacement every set amount of years. A future procedure may be required to replace an implant if there is something wrong with the appearance or feel of the breast or if the shape and position change over time with the natural process of aging. Breast implants come with warranties, the specifics of which differ depending on the manufacturer and the type of implant. You may also require a future procedure if aging, pregnancy, breastfeeding, or weight loss changes your breasts and you are no longer satisfied with the way they look. So long as your implants continue to work for you, they will not need to be replaced.
What happens if an implant rupture occurs?
In the unlikely event of an implant rupture, you will simply need to schedule an appointment and come in for an evaluation. Saline will noticeably deflate as the saltwater solution leaks, but the body will harmlessly absorb the excess fluid. Silicone is made to hold its shape and even if there is a rupture to the outer shell, the gel may not leak out of the implant and in general if it does, it will not leave the breast implant pocket. Gel implant ruptures typically present in the form of capsular contracture so if your breast looks or feels different as time goes by, you should make an appointment to see your surgeon. 
Can I shower after my breast augmentation?
You can shower two days after your surgery when the superficial layer of the skin incision becomes watertight.  Submerging in still water, including pools, hot tubs, and baths, should be avoided for about a month.
Can breast augmentation look natural?
Absolutely! Breast augmentation with implants and fat transfer breast augmentation can both produce beautiful, natural results that look tailor-made for your body. You can have a dramatic result that completely changes your figure or subtle improvements that enhance your silhouette without revealing the secret of how it happened. It's up to you. Once you have explained your vision to Dr. Everett, you will design a personalized surgical plan that enhances your natural beauty in just the right way.
References
Adams WP, Mallucci P. Breast Augmentation. Plastic & Reconstructive Surgery. 2012;130(4):597e611e. doi:https://doi.org/10.1097/prs.0b013e318262f607
Davis MJ, Perdanasari AT, Abu-Ghname A, et al. Application of Fat Grafting in Cosmetic Breast Surgery. Seminars in Plastic Surgery. 2020;34(01):024-029. doi:https://doi.org/10.1055/s-0039-1700958