Breast Fat Transfer
Consultations offered at our two convenient locations in Manhattan, NY and Queens, NY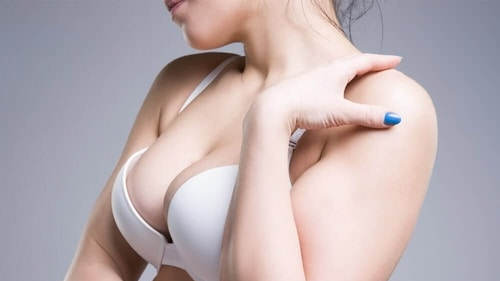 Fat transfer is not a new surgical technique, but it is growing in popularity as plastic surgeons find innovative ways to accentuate the body using a patient's own fat. One of the most exciting applications of this technique is breast enhancement. As a safe and effective alternative to implant-based breast augmentation, fat transfer is an appealing option for women who want to add shape and volume to their breasts but do not want foreign materials in their body.
Fat transfer breast augmentation delivers the benefits of two surgeries in one. The procedure involves collecting fat from another area of the body with liposuction — often a common "problem area" like the abdomen, flanks or thighs — and injecting it into the breasts. After fat transfer breast augmentation, patients enjoy fuller, naturally enhanced breasts and a shapelier body with very minimal scarring.
Breast augmentation patients come to New York City from throughout the Tri-State Area to have their surgeries performed at ME Plastic Surgery. If you'd like to meet with Dr. Marc Everett, request a consultation online or call us at 212-774-7715 to schedule an appointment.
Considerations
Fat transfer breast augmentation may help you sculpt your ideal figure if your goals include:
Adding moderate fullness to your breasts
Improving the shape of your breasts
Balancing breast unevenness
Removing unwanted fat from an area of your body
Taking an all-natural, organic approach to breast enhancement
Avoiding breast implants and their associated risks and maintenance
Reducing recovery time
Minimizing postoperative scarring
Achieving results that look and feel natural
Enhancing the aesthetic results of a breast augmentation surgery with implants
Ideal Candidate
You may be a candidate for fat transfer breast augmentation if:
Your breasts are finished developing
You have enough excess fat to use for the transfer
You desire a modest increase in the size of your breasts
You are in a good general state of health
You do not smoke
Your goals and expectations are realistic
It's critical to match the right procedure with the right patient. The fat transfer technique is best for women who want subtle and elegant enhancement, rather than an extreme increase in breast size. Furthermore, implants often provide a lifted look that fat transfer does not, so women who wish to address sagging breasts may achieve better results with implants or a breast lift.
To be considered for a fat transfer breast augmentation, patients must have sufficient fat to use for the fat transfer. Slim patients may not be good candidates and may be advised to consider implants instead.
Dr. Everett will determine which procedure is the best match for your goals after an in-person evaluation.
Procedure
Fat transfer breast augmentation is a three-step outpatient procedure performed under general anesthesia. Dr. Everett works with each patient to create a personalized surgical plan that delivers a proportionate, beautiful result.
The first step in any fat transfer procedure is the use of liposuction to extract fat for the injections. Dr. Everett can perform liposuction anywhere a patient has excess fat deposits. Commonly used places include the abdomen, flanks, back, arms and thighs. The goal is to choose areas that will leave an aesthetically pleasing result while ensuring enough fat is harvested to achieve the desired changes in the breasts.
In the second stage of the procedure, the extracted material is processed in a centrifuge to separate the healthy fat cells for injection. This purification process helps ensure that the maximum amount of fat possible survives in its new location.
In the final step of the fat transfer breast augmentation, Dr. Everett carefully injects the purified fat cells into the breasts. Because the body may naturally absorb some of the fat in the weeks following the procedure, Dr. Everett may inject a bit more than needed to create the desired shape and size. The procedure usually takes two to four hours to complete.
Recovery & Results
Recovery after a fat transfer breast augmentation is typically shorter and more comfortable than recovery following a traditional breast augmentation. Each patient's recovery journey is unique, however, and your experience will depend on the volume of fat removed, the areas where Dr. Everett performed liposuction and the number of areas used.
Soreness is expected in the breasts and fat harvesting sites for the first week. Bruising and swelling will decrease significantly over the first month. You'll be instructed to wear a compression garment to control swelling and retain your newly sculpted shape while you heal. Most fat transfer breast augmentation patients can return to work after the first week. You may resume light activity as soon as you feel comfortable, but it is important to avoid vigorous exercise and lifting heavy items for four to six weeks.
There may be minor scarring at the liposuction site(s). These scars are short and easily hidden with clothing, and should fade significantly over time. There will be no scars on or around the breasts because fat is injected with a very fine needle.
Results
The final results of a fat transfer breast augmentation develop over time. The initial postoperative swelling may cause your breasts to look larger and feel firmer than you desire. The swelling will gradually settle over the course of several months, leaving you with a more natural look and feel. Some fat cells will not survive in their newly grafted position. For this reason, Dr. Everett may slightly over-graft to make sure you achieve your goals.
The cells that do not take will be naturally processed out of your body. The fat that survives the transfer will remain permanently. It should change proportionately with any future weight fluctuations, so maintaining a stable weight is an important part of sustaining your results. The fat transfer process can be repeated to increase the amount of permanent cells.
Contact
Aesthetic trends are constantly evolving, and surgical techniques evolve along with them. A growing number of patients request subtle breast enhancements that complement their natural figure and may be undetectable to all but the most discerning eyes. Fat transfer breast augmentation has recently become a popular option for women who want improved shape, symmetry and fullness without the drawbacks of breast implants.
Dr. Marc Everett is known for his breast augmentation procedures and has extensive experience in the latest fat transfer techniques. If you would like to learn more about this beautiful, natural way to enhance your breasts, contact ME Plastic Surgery today at 212-774-7715 or submit this online form.