Breast Implant Revision
Consultations offered at our two convenient locations in Manhattan, NY and Queens, NY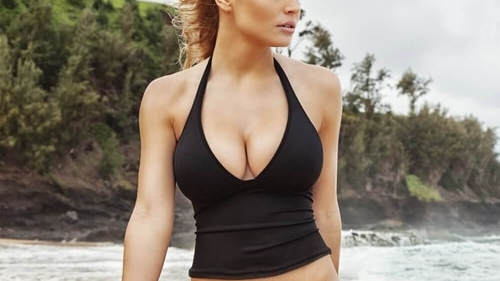 No matter how stylish, accomplished or attractive you may be, feeling self-conscious about your breasts can negatively affect your life. Hundreds of thousands of women opt to undergo breast augmentation each year to enhance their bust. This procedure has never been more accessible for women who want to feel better about their figures, and it consistently tops annual lists of the most popular plastic surgery procedures.
Many breast augmentation patients rave about their results. Unfortunately, for a variety of reasons, some patients do not achieve their goals the first time, and some with an initial positive outcome may later experience unfavorable changes. Breast revision surgery is performed to correct unsatisfactory results from a prior breast enhancement procedure. This secondary surgery can improve the shape, size, symmetry and health of the breasts.
Breast revision surgery requires a skilled plastic and reconstructive surgeon who can help the patient identify the source of their concerns and determine if their desired outcome is realistic. As a board-certified and fellowship-trained New York plastic surgeon, Dr. Marc Everett has the training and experience necessary to respond to even the most challenging cases. Contact Dr. Everett and his enhancement team today to restore confidence in your appearance.
Before and After Photos
Procedure
Breast revision surgery involves replacing or removing the implants placed in the breast pocket during the primary breast augmentation procedure. Some of the concerns that can be corrected with a breast revision surgery are
Asymmetrical results
Unsatisfactory projection, shape or size
Capsular contracture
Rippling, rupture or other implant complications
Implant malposition or migration
Poor scarring
Breast changes after pregnancy, nursing, weight gain or weight loss
Age-related breast changes
Desire to change to a different type of implant
Desire to remove breast implants (explantation)
Ideal Candidate
You may be a candidate for breast revision if:
You are unhappy with the cosmetic outcome of a previous breast surgery
You have developed complications with one or both breast implants
You are in good physical and emotional health
You do not smoke
You are not pregnant or breastfeeding
You have realistic expectations about what revision surgery can achieve
A sufficient amount of time has passed since your primary procedure

The best way to determine whether breast revision is right for you, and what type of revision surgery you require, is to schedule a consultation with Dr. Everett. Dr. Everett's goal is to create a beautiful, natural-looking outcome that respects your unique anatomy, wishes and goals.
Procedure Details
Breast revision is a highly customized surgery. Some patients only require a light touch to improve their results, while others require a more comprehensive overhaul. During your consultation, Dr. Everett will take the time to understand your goals and outline an enhancement plan that is uniquely tailored to your circumstances. The quality of communication between surgeon and patient in the preoperative stage is one of the biggest predictors of the success of breast revision surgery. Be sure to speak candidly with Dr. Everett and his team.
Breast revision surgery is performed in an outpatient facility under general anesthesia. The surgery may involve removing the original implant and inserting a new one, adjusting the implant pocket, removing or releasing internal scar tissue, relocating the nipples or explantation. It may also involve a complementary procedure, such as a breast lift or fat transfer.
Dr. Everett will make incisions in the appropriate places to achieve your desired outcome and minimize scarring. Depending on the technique utilized in your primary breast surgery, he may be able to use the same incision locations so you have no new scars. He will close the incisions and his surgical team will dress the area when the procedure is complete.
Recovery & Results
The recovery following breast revision is often similar to the recovery after the primary breast augmentation. You can expect some degree of postoperative discomfort, swelling and bruising. These effects can be mitigated with pain medication and a special surgical bra that should be worn to reduce swelling and support your breasts. Avoid underwire bras until healing is farther along, as they may distort the shape of your breasts or harm your incisions.
Most patients can return to moderate activities a few days after the procedure. Vigorous exercise and any activities that may cause strain on your breasts should be avoided for four to six weeks after surgery. Anticipated time off work is approximately seven days. Dr. Everett is precise with his technique and aims to perform every procedure with as little trauma as possible, so the recovery period is not prolonged.
Your incision scars will initially appear pink and slightly raised. With time, they will fade and flatten. Your final results will become apparent after a few months, once the swelling has subsided and your new implants have "settled down" into position.
Results
What you see immediately after breast revision surgery is not your final result. You may notice some improvements in size or shape right away, but your breasts may look overly full due to swelling. This will subside over the weeks to come, making your breasts softer, more proportionate and more mobile. If you had your implants replaced, your new implants might appear too high on your chest until sufficient time has passed for them to settle. You can expect to enjoy the full benefits of your new figure within three to six months.
The results of breast implant revision surgery are generally long-lasting. If a future complication occurs, or your breasts undergo unwanted changes due to aging, pregnancy or weight fluctuations, another breast enhancement procedure can be considered to recover a youthful, natural appearance.
Work with the Top Breast Revision Surgeon in New York City
View our Breast Revision Gallery to see Dr. Everett's past work, and contact us today to schedule an in-person or virtual consultation.
Contact
Breast implants should make you feel confident and beautiful. Yet even with advanced techniques and skillful execution, your breast augmentation procedure may end in an unsatisfactory outcome that has exactly the opposite effect. Breast revision surgery with Dr. Marc Everett can restore a shapely appearance to your breasts for your continued health and happiness. Dr. Everett has proudly devoted his career to helping patients in New York City, the Tri-State Area and beyond look and feel amazing. Request a consultation online or call 212-774-7715 to get started.