Brachioplasty
Consultations offered at our two convenient locations in Manhattan, NY and Queens, NY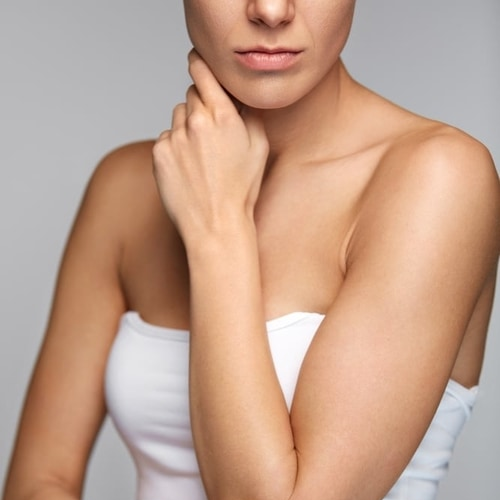 Brachioplasty commonly referred to as an arm lift, is a surgical procedure that eliminates loose skin and excess fat located in the upper arms. Weight loss following bariatric surgery, years of sun exposure, the effects of aging and weight fluctuations can all contribute towards upper arms that have large amounts of loose, hanging skin. With arm lift surgery, patients can enjoy several aesthetic improvements, including:
Slim, contoured upper arms
Elimination of stubborn pockets of fat in the arms
Increased definition of upper arm muscles
Reduction of extra weight caused by excess skin
Creation of a better-proportioned figure
Ability to fit into clothing more easily
Dr. Marc Everett offers all manner of skin removal procedures to their patients interested in receiving a tighter, more sculpted figure. If you have recently undergone a large amount of weight loss and are in the process of adding the finishing touches to your new body, then consider Brachioplasty surgery to tone your upper arms.
Before and After Photos
Procedure
Brachioplasty is completed under general anesthesia or local anesthesia with intravenous sedation, varying on a patient to patient basis. The amount of tissue targeted for removal will determine which state of anesthesia is induced and how long the surgery lasts. If pockets of exercise-resistant fat contribute to the excess tissue of the upper arms, then liposuction may be used at the start of the procedure to remove the fat before beginning the Brachioplasty.
Once the excess fat has been removed, the surgeon will make an incision in the upper arms. Several types of incisions may be used, depending on the patient's needs. For mild amounts of excess skin, a small incision may be made within the underarm. Moderate to severe amounts of excess skin will require a longer incision, starting at the underarm and extending horizontally toward the elbow. The length of the incision will vary. All incisions are made on the inside of the arm, keeping scars out of sight while patients' hands are by their sides.
After the necessary incisions have been made, the skin is pulled taut, and any excess skin is trimmed away. The underlying tissue will be adjusted to create a slimmer shape before the skin is sutured shut. The average Brachioplasty surgery lasts between two and four hours.
Recovery & Results
Following Brachioplasty surgery, patients will need to take one to two weeks off from work. Excessive arm movement and heavy lifting will need to be avoided for at least two to four weeks, at which point patients may gradually resume exercising. The incisions will take a few weeks to heal over completely.
Side effects include soreness, swelling, and bruising. Pain and discomfort will be managed using prescription medication during the initial days of recovery. Most visible side effects will dissipate in the first couple of weeks, although residual swelling can linger for several months. Compression garments may be used for the first four to six weeks to provide support to the underlying tissues of the arms and to facilitate a quicker recovery.
Results are immediately noticeable, as the removed tissue will provide an instant improvement in upper arm contour. Final results will continue to develop as swelling subsides and the incisions heal. Scars will appear red and noticeable at first but will gradually improve over 12 to 16 months.
Contact
If you have embarked on a long and fruitful journey toward bettering yourself through weight loss, then take the final steps toward achieving the body you deserve with Brachioplasty surgery. At ME Plastic Surgery, Dr. Marc Everett wants to help you meet your goals by giving you toned, firm arms. To learn more about the procedure and book an appointment, call us today at 212-774-7715.
FAQs
How soon after bariatric surgery, can I undergo a Brachioplasty procedure?
You will need to wait 12 to 16 months before undergoing any type of skin removal surgery following bariatric surgery. Once you have met your weight loss goals and can maintain healthy body weight, we can move forward with skin removal procedures.
How long do results from a Brachioplasty procedure last?
Results following Brachioplasty are lifelong. So long as you maintain healthy body weight, you can expect to enjoy your slimmer arms well into the future. Further weight gain can stretch your skin, while weight loss can lead to the development of more loose skin. We always recommend that patients are at or near their ideal body weight and prepared to maintain their current weight before moving forward with a Brachioplasty procedure.
What kind of scarring can I expect?
Scarring is an unfortunately inevitable part of Brachioplasty surgery. The size and length of your incisions will depend on how much excess tissue is present and your desired goals. We always make the conscious effort to minimize scarring and place it as inconspicuously as possible for all patients. Brachioplasty incisions typically extend horizontally across the inner arm, spanning from the underarm toward the elbow. Your scars will be concealed with your arms by your sides or when wearing a long-sleeved shirt but could be visible should you expose your arms while wearing a swimsuit or other types of clothing. We will provide personal care and advice to help you manage your incisions while they heal to minimize scarring.
Can Brachioplasty be combined with other procedures?
Yes, Brachioplasty is often one step of a comprehensive procedure toward total body rejuvenation. If you have loose skin on your upper arms, then you likely have it in other areas as well, such as the abdomen and thighs. We regularly combine Brachioplasty with tummy tucks, inner thigh lifts, and other procedures. If you are interested in addressing multiple areas of concern, then let us know during your initial consultation, and we will create an individualized treatment plan.
How soon after a Brachioplasty, can I get my incisions wet?
You can take a shower once your surgical dressings have been removed, about 24 to 48 hours following surgery. We ask that patients wait two to four weeks before bathing or going swimming, as submerging the incisions in still water before they have healed can lead to infection.
Can I drive following Brachioplasty surgery?
You will need to wait several days or about one week before resuming driving. We ask that all patients arrange for someone to drive them home following surgery. Make sure you have a friend or family member ready to provide transportation while you continue to recover in the first couple of weeks.
Am I a good candidate for Brachioplasty surgery?
If you are a non-smoker, are in relatively good health, have loose skin and excess fat located in your upper arms, and can maintain stable bodyweight, then you are a good candidate for Brachioplasty. Patients interested in an arm lift should be within 25 pounds of their goal body weight, as future weight loss can lead to more excess skin. We will determine if you are an ideal candidate for the procedure after an in-person evaluation.