Lip Implant Augmentation
Consultations offered at our two convenient locations in Manhattan, NY and Queens, NY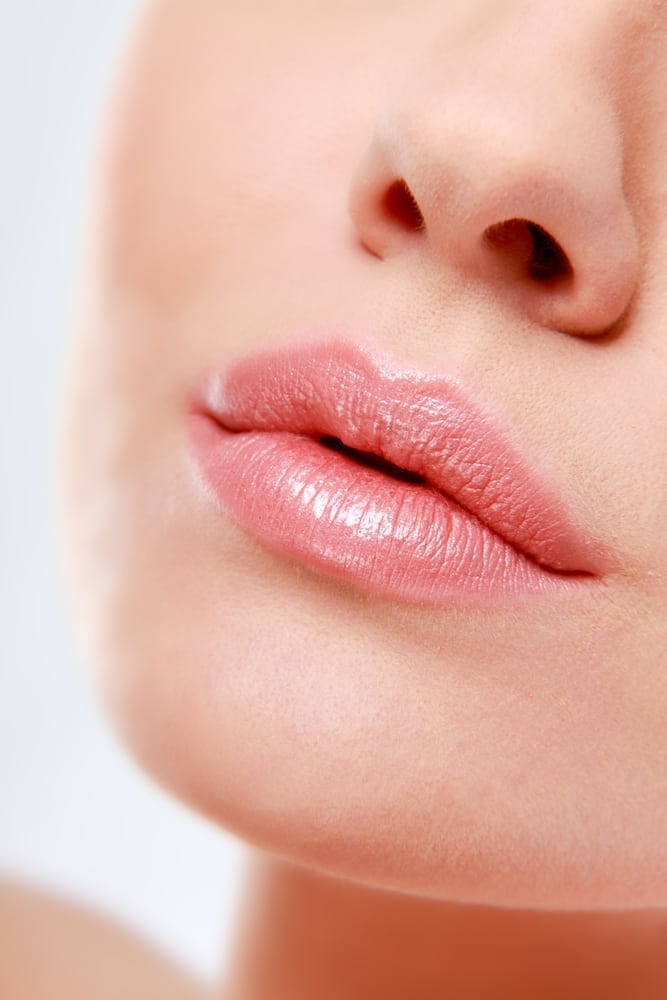 Lip implants provide lifelong lip augmentation for those interested in fuller, shapelier lips without the need for repeated treatments. Lip implants can be used for patients who:
Have naturally small or thin lips
Lost lip volume due to the effects of aging
Want to take a more cost-effective approach to lip augmentation
Enjoy the results from injectable fillers but want something longer-lasting
Dr. Marc Everett offers lip implant procedures to patients interested in increasing their lip volume without the need for maintenance appointments.
The Procedure
Lip implant augmentation is completed under local or general anesthesia, depending on the preference of the patient and recommendation of the surgeon. Small incisions are made at the corner of the lips once the patient has been numbed. Using a unique instrument, the surgeon will create a tunnel inside of the lip from one end to the other to provide room for the implant.
After enough space has been created, the implant is inserted through the incisions and threaded through the lip. Once in place, the implant is trimmed to the appropriate length, and the small incisions are closed with sutures. The procedure takes one hour, and patients can return home the same day as their procedure.
Lip implants are only meant to augment lip volume and do not alter the shape of the lips.
Several different types of lip implants exist, and Dr. Marc Everett works with their patients on an individual basis to determine which implant is correct for them based on their lips and desired results. Implants can be made from a variety of materials, including synthetic and organic options. All implants are tapered at the ends to provide a natural look.
Recovery & Results
Following lip implant augmentation, patients will notice an immediate difference in the size of their lips. Common side effects include bruising, swelling, and tenderness. The lips will have a noticeably puffy look following surgery due to swelling, and final results will develop throughout one to two months as swelling fully subsides. Side effects can be minimized by sleeping with an elevated head for the first 72 hours and using cold compresses to reduce swelling.
Patients should expect to take at least a few days off from work while their noticeable side effects diminish. Eating and drinking may be difficult for the first few weeks due to tenderness. If non-dissolvable sutures were used, they would be removed in-office about one week following the procedure.
FAQ
Can lip implant augmentation be performed on just the top or bottom lip?
Absolutely. Some patients find they only need lip implants on either the bottom or top lip to meet their desired look. We can personalize the surgery according to your preferences and perform lip implant augmentation on just one lip if necessary.
How long do lip implant results last?
Lip implants provide lifelong results for fuller lips. Unlike injectable lip treatments, implants will not be dissolved by the body, so you will not have to worry about coming in for an annual touch-up appointment. Once you receive your lip implants, you can continue to enjoy your results far into the future.
Will I be able to eat and drink normally?
You might find it difficult to eat or drink for a few weeks while your lips are still tender — plan on sticking to a diet of softer foods immediately following surgery to ensure a more comfortable recovery.
Are there any risks with lip implants?
Just like any surgical procedure, infection is a minor risk. Other rare complications include implant rejection or stiffness, but these risks can all be mitigated with the experience of board-certified plastic surgeons. Our expert staff takes every precaution to give patients peace of mind and ensure their procedure is completed under the safest circumstances.
Who is a good candidate for lip implants?
Lip implants can benefit patients of just about any age. Whether you are young and interested in increasing the size of your naturally thin lips or are experiencing the effects of age-related volume depletion, you can be a good candidate for lip implants. Patients interested in lip implant augmentation should have realistic expectations about their results and be prepared to spend some time recovering after the procedure.
Will scarring be visible?
The incisions made during lip implant augmentation are minimal and will heal very quickly. We will take steps to ensure your results will not be hampered by visible scarring.
Is lip implant augmentation reversible?
If for any reason, you are dissatisfied with your new lips after the procedure, the implants can be removed. We will explain in detail what your results will look like before you go in for your procedure to ensure you know exactly what to expect.
Will lip implants eliminate my vertical lip lines?
Vertical lip lines, also commonly called "smoker's lines," are caused by age-related volume depletion in the skin around the mouth. Lip implants only affect the lips themselves and will not eliminate fine lines and wrinkles. If you would like to treat your vertical lips lines in addition to your lip implant augmentation, let us know during your initial consultation. We offer a full suite of injectable fillers that can restore volume around the mouth for comprehensive lip enhancement.
Will my lips still feel natural?
Yes. Lip implants are designed to look and feel just like your natural lips and will not be detectable to the touch.
If lip implant augmentation interests you, then schedule an appointment Dr. Marc Everett. We want to help you achieve your aesthetic goals and give you the lips you have always wanted. To learn more about this procedure, call us at today New York office at 212-774-7715 to schedule your appointment. Dr. Marc Everett will sit down with you during an initial consultation and discuss how they can help bring your beauty goals to life.